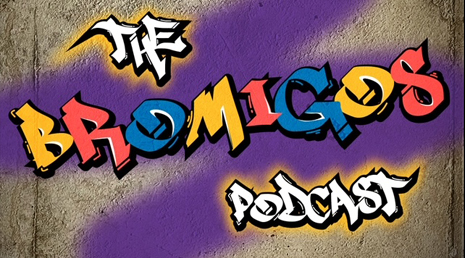 Panama Red, Daint Money, Hoochie Man Hunter, The Undercover Brother Motorboatin' Matt
Welcome to the Bromigos Podcast, a show where four bros from broadcasting school sit down and talk shop. Join Panama Red, Daint Money, Hoochie Daddy Hunter and "The Undercover Brother" Motorboatin' Matt as they cover all things sports, sex, society and everything in between. Nothing is ever off limits for these bros, and we hope you enjoy the ride!
Panama Red: Panama Red is the tall, dark and handsome older brutha among the Bromigos. He's been known to roll a beautiful joint, root
for every Philly sports team, and tell you off in English, Spanish, and German. A combat vet who spent 6 years living in Germany and
traveling throughout Europe, he offers crazy stories and words of wisdom, and he's not afraid to talk about just about anything.
Daint Money: My name is Dante Walker but the homies know me as Daint. I'm America's worst nightmare, young, black and opinionated! I love being 100% unfiltered and open about any topic and conversation. One day I'm gonna be one of the greats just watch.
Hoocieman Hunter: I'm a man who is an absolute Sports Nut. I watch everything from the NFL and NBA, to NASCAR and F1. But I also like to dive into the trending topics of the current world, mostly sex and politics. They call me Hoochieman because I respect women how a
gentleman should.
Motorboatin' Matt: Matt Mysh is a longtime YouTube creator of over 10 years. His passion for using his voice eventually led him to become an aspiring radio host and voice over artist. He is the co-host and producer of the podcasts, 69 Whiskey & The Bromigos Podcast, where he is known under the monikers "Motorboatin" Matt, Head Advocate of the Big Titty Committee & "The Undercover Brother" respectively. While all these accolades, you'd think he'd get laid more…