Embrace by Coralyn Jewel Podcast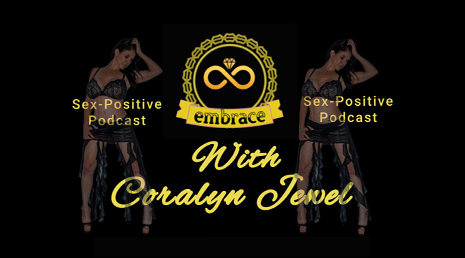 Coralyn Jewel is a perfect example of a woman living by her favorite quote. "Patience will prosper"
A retired adult porn star, high-class escort, retired competitive athlete, porn director, swinger club owner, fitness trainer, wedding planner, talent manager, voice-over actress, coach, and speaker. Coralyn Jewel is the epitome of a strong powerful female entrepreneur.
Join her journey through life as a sex worker in a world where judgment is human nature. From her #1 International Best-Selling book to her weekly Podcast. Coralyn strives to break the Stigma of those involved in various aspects of the adult industry. Weekly guests on her show include sex therapists, Adult performers, directors, Swinger couples, each with a unique story for listeners to learn from.
Follow her coaching, training sessions, speaking engagements, and book signing schedule on TheCoralynJewel.com as well as her social media.  
Best-selling author, Porn Star, Director/Producer, and Swinger Club owner Coralyn Jewel hosts the Embrace Podcast. Tune in weekly as Coralyn breaks down The Adult Industry and interviews some of its biggest stars. By sharing her journey in the adult industry and her experience as a swinger and running a swinger club Coralyn Jewel hopes to open her listener's minds to acceptance and to various lifestyle and life choices. Her website has weekly blog entries that also share and educate on various aspects of the adult world.