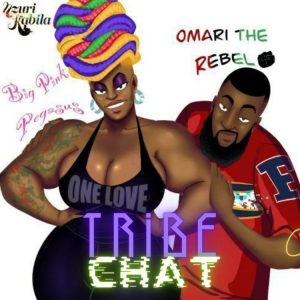 Tribechat
Host: Omari the Rebel (he/him)
Host: Big Pink Pegasus (she/her)
Tribechat  was formed first on an Instagram live show during the coronavirus pandemic of 2020 as a way to maintain the connection they had to their supporters absent do the opportunity to host the main swinger lifestyle events that usually have. The Instagram live show became popular, and after featuring on the "Whorible Decisions podcast, they entered the podcast Arena themselves.
Tribechat is about the open conversation of alternative sexuality from the black perspective. There motto is "We make you think, we make you laugh and we make you cum".
Big Pink Pegasus is a professional hairstylist and comedic social media influencer from east orange, Nj.
Her solo comedy skits were popular on Instagram as she easily recognizable with her distinct and exuberant hairstyles that match her personality. Mother of 2, the single 40 plus woman helped launch the black swingers collective, Nzuri Kabila(Nk swingers) in New Jersey in 2016 with her first cousin, Phoenix. Pegasus describes herself as a "weekend bisexual" and currently a single unicorn in the swinger lifestyle community. Adding light modeling to her repertoire, she aims to smash conventional beauty standards by forcing modern society to make room for the beautiful full figured women of the world today as a proud BBW herself. She's be featured on SwingCulturetv podcast, Respect the blackout podcast and Whorible Decisions where she & her co-host and partner, Omari the Rebel reached the top 10 spot for apple podcast comedy for there episode "swinging black".
Omari the Rebel is a long time hiphop artist, activist and adult content creator from Brooklyn NYC. 34 year old father, Omari is known for both his distinguishable tone of voice as well as his  unapologetic and often controversial views. Omari is currently in a open relationship and has been active in the swinger lifestyle community since 2017.
Navigating the space between intellectual provocateur and radio shock jock he brings a mixture comedy and intellectualism to the podcast area in his witty, crude singanate style.
Monday 2:00 pm
Saturday 1:00 pm