The Keys and Anklets Podcast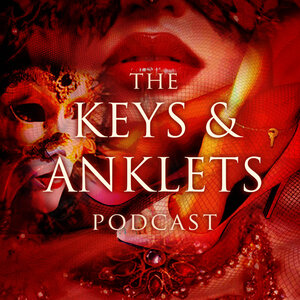 Welcome to The Keys and Anklets Podcast
Here we explore all aspects of the cuckolding and hotwife lifestyles with the primary goal of creating a sense of realism while separating fact from fiction within these often widely misunderstood lifestyles.
(Go here if you're curious about what the name of the podcast comes from)
Through discussions and interviews we celebrate the beautiful relationship dynamics, dissect the intricate complexities within them, and share the challenges and struggles so we can learn from one another. Sometimes it's serious, sometimes it's funny, and sometimes it's very sexy and naughty, but even if you are just curious to all this or already experienced in the lifestyle you will always come away with having learned something new.
About the host
The Keys and Anklets Podcast is hosted by Michael C whose background makes him uniquely qualified to be an expert in the field. He is a bull with over 20 years of experience in the hotwife/cuckolding lifestyle and has been hosting lifestyle parties for the past 7 years in the New York City area, including hotwife, cuckold, and BBC parties. His natural curiosity to analyze and understand combined with his love of conversation has given him an incredibly in-depth understanding and level of expertise in this lifestyle as well as a passion to share that knowledge with others. He hopes to elevate the lifestyle, educate others about it, and help people navigate the ups and downs within it.
"This lifestyle has been very good to me and this podcast is my way of paying it forward. The main thing I hope people take away from episodes is my passion for this lifestyle and I hope that people can learn from what I talk about. There are many things I want to do to elevate this lifestyle and make it easier to understand, make it more mainstream, and bring some common sense to it. This is about starting a movement. It's a journey. We're all going to grow, we're all going to laugh and hopefully we'll all be better for it." – Michael C