Tangled Up Together Podcast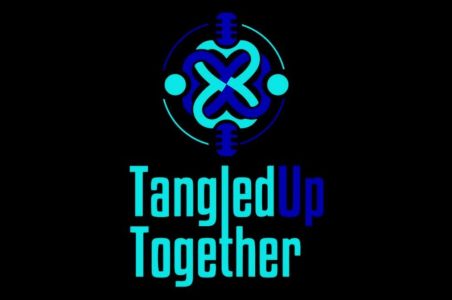 Tangled Up Together
Hosts Names: Brittany & Chad
A married couple that is very much in love and participating in the swinging lifestyle. We view swinging as not only a fun pursuit of sex with others but a community of like-minded adults and lasting friendships. We are deeply connected with each other and the swinging only enhances our bond. When we aren't swinging, we are also avid skydivers, scuba divers, nature enthusiasts, and she is a roller derby star! We are excited to share our adventures and misdeeds with you. Come, join us, and let's get Tangled Up Together!
Brittany
Convinced I was a sex addict in my early 20s, I know now I am just what is often referred to as 'fun.' Always seeking out the next challenge, I immerse myself in high stakes activities like skydiving, scuba diving, roller derby, motorcycles, and, most relevantly, swinging. I find balance in hobbies like reading, writing, and Dungeons and Dragons, but don't tell anyone that – I have an image to maintain. As a proud bisexual, I'd be more than happy to introduce you to my strap on. Wife and step mom to the two most fun loving, supportive individuals I still can't believe are mine.
Chad
I just recently became comfortable admitting I am 44 years old due to an overwhelming fear of being lumped into a category of middle aged men wearing cargo shorts, ill-fitting jeans and white New Balance sneakers.  Never wanting to give anyone the wrong idea, I can be found telling people I am 35 (and surprisingly getting away with it).  But when you are married to a smoking hot wife that is 13 years younger, one can afford to be honest about their age.  Skydiver, scuba diver, archer, traveler, nerd, podcaster and, most importantly, the father to an amazing daughter.  Also, my sun rises and sets with my best friend and wife, Brittany, with whom the world is our buffet of adventure and sexual pleasure.
Wednesday 1:30 pm
Saturday 11 am