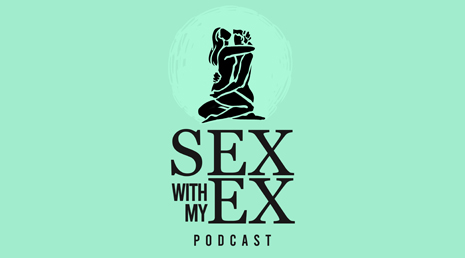 The Sex With My Ex Podcast is a sex-positive show exploring all things intimate, erotic, sensual and delicious – hosted by two exes, Kitty
and Johnson.
Along with our regular episodes we are lucky enough to be able to interview experts and thought-leaders in the field of sexuality. They
bring immense value to our community. This is a safe, authentic, and judgement-free space for normalising conversation around topics related to sex and sexuality. Some of these include: non-monogamy, kink, mindfulness, mental health, physiology, body celebration, LGBTQ+, pleasure, porn… the list goes on!
We hope that you feel encouraged to connect with these topics, even if that's just to listen with a curious mind. There is full permission to
take what is useful and discard want doesn't serve you! You are welcome to join us in exploring, celebrating, and learning with a view to connecting more intimately with ourselves and others. You deserve pleasure and we hope to inspire you to find some more!
We love hearing from our community so please reach out with your feedback and questions – or just leave a friendly hello…
Kitty and Johnson x
Kitty:
Kitty is Māmā to three beautiful children and a passionate advocate for holistic wellness and breaking the stigma around mental health,
sexuality and intimacy. She has a background in education and spent two years facilitating a preventative, therapeutic program in local Primary Schools for high risk 9-11 year old girls.
She now works as a Holistic Wellness Practitioner who specializes in emotional release and personal transformation through energy work.
Kitty works in collaboration with other women to host retreat spaces and events focused on empowerment, body acceptance and connection to self and others. Kitty believes that the more we normalize conversations around our bodies, sex, intimacy, mental health etc. the happier we can all be.
She embraces all aspects of the divine feminine in her own journey and the healing spaces she holds with her clients- welcoming in
transformational tools such as rage release, pleasure and embodiment practices.
Through her own journey of overcoming pre and post-natal depression and healing the wounds of traumatic childhood experiences she
understands the transformation that is possible and is beyond passionate about supporting others on their own journey back to pure
love. She is currently single and committed to bringing you some sexy and shocking stories!!
Johnson:
Johnson is a proud father to two beautiful monkeys. He is in a non-monogamous relationship with a beautiful woman, as well as
Dominant to a wonderfully delicious submissive.
Johnson is passionate about advocating for sex positivity, men's mental health and enhancing peoples sexual connection with themselves
and others. He believes that sex is a powerful way through which we can all express creativity, experience healing and engage in sacred
connection with ourselves and others.
His career began in the military, before moving into the commercial aviation space. When In his late 20's, he ran a domestic airline.
After figuring out that the stress and lack of work-life balance wasn't worth losing his wellbeing over, he decided to change direction
and experience life a bit deeper. He spent time working in a program that helps men deal with aggressive behaviours, aiming to reduce the
impact of abuse.
Johnson is now facilitating safe spaces for people to explore and connect with their sexuality in conjunction with Kitty, drawing on a
diverse range of personal experiences and insights which he hopes to share with you all in a light-hearted, engaging and fun way.
Monday 9:00 am
Friday 1:00 pm