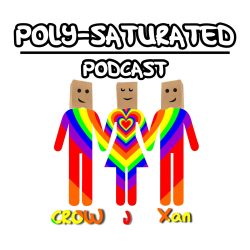 Poly-Saturated is an in-depth ongoing discussion brought to you from a working polyamorous family detailing the polyam lifestyle.
Xan is the tech expert, editor and master creator for the Poly-Saturated podcast. A small business owner, he keeps himself busy between all of the projects he takes on and creative ideas he wants to turn into reality. With a doctorates in smart-assery he keeps the rest of the polycule laughing and on their toes. 
Crow is a reverend and an Urban Shaman known as Crow's Flight. He has publicly practiced his craft as High Priest of an open circle, and has given sermons at a local UU Fellowship. He has been to the opposite side of the earth from his birthplace absorbing everything he could about the world around him. However, the best thing he's ever done, is marry in to his polycule — so he can torture Xan.
J is the CFO, CEO and calendar master of the Poly-Saturated polycule. J is a reiki master and loves to read study and practice multiple spiritual paths. Documentaries and any time she can learn is brain fuel. Mother of 4, (and a few bonus children) she keeps it real even when it's hard, loves to love and has enjoyed over 20 years of serving up elaborate dishes of torture to Xan.
Scarlett is the newest member of the Poly-Saturated polycule. She recently moved halfway across the country to join the polycule. She is a lover of fantasy, horror and true crime and an avid believer that lip balm is a basic necessity. She is the newest torturer of Xan and bows to the knowledge of her metamours.